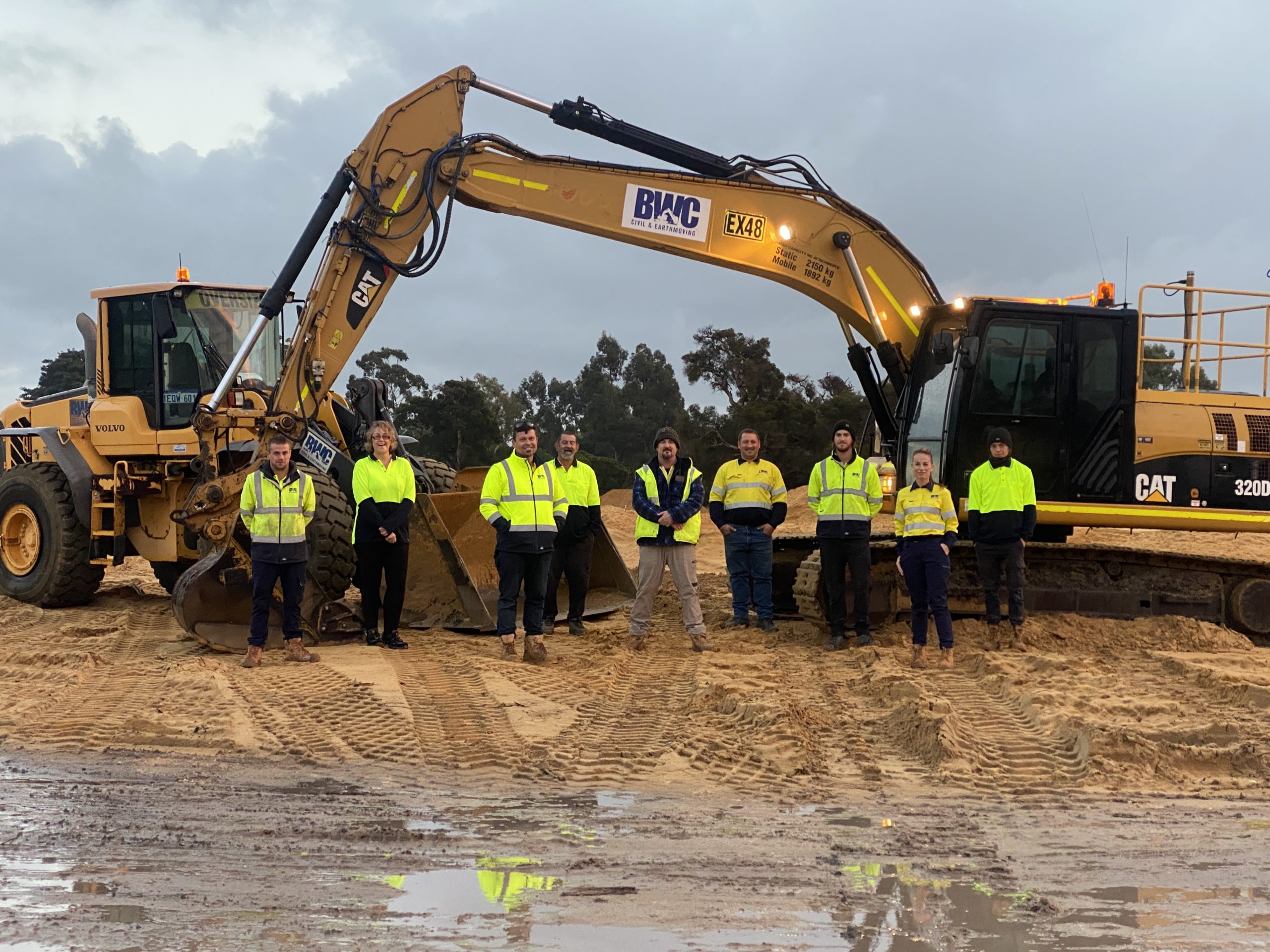 About
BWC Civil
BWC Civil and Earthmoving is a trusted and respected provider of civil contracting and earthmoving services in Western Australia.
BWC Civil is fully insured, with comprehensively trained and licensed staff. We continually invest in the training and development of our team. This ongoing commitment not only enhances the value we can offer to our clients, but also supports our culture of excellence.
Direction & Operations Manager Brad Walton personally oversees the planning and delivery of every project we undertake. Brad's exacting standards have built our strong reputation in the civil contracting space. With decades of experience in the industry, Brad's expertise enables BWC to find flexible and cost-effective solutions to every challenge on-site.
Our accolades and memberships include:
BMW Service Alliance 2012 (SA12) preferred contractor
Member of the Civil Contractors Federation of WA (CCFWA)
Member of Peel Chamber of Commerce & Industry
BWC Civil & Earthmoving is a proud supporter of our local Peel community. We currently sponsor the Pinjarra Harness Racing Club and support multiple WA charities.
Our History
The history of BWC Civil & Earthmoving began in 2000, when owner Brad Walton established Bradway Contracting. With extensive experience in the civil construction industry, including roles at Triad and Ertech, Brad aimed to set the standard for trust and accountability in WA's civil & earthmoving sector.
Bradway Contracting was rebranded as BWC Civil in 2013, a name that accurately reflects our knowledge and expertise in the civil contracting space. Under this scope, BWC Civil has completed a vast range of contracts to the highest standard, both in a collaborative capacity and as head contractor.
In June 2020, BWC Civil was approved as a Building Management & Works (BMW) Service Alliance 2012 preferred contractor for the delivery of building maintenance and improvement work on WA Government assets. This achievement reflects not only the quality outcomes we deliver, but also the high level at which BWC Civil collaborates with other industry partners.
Our Values
At BWC Civil & Earthmoving, we believe in quality, safety and loyalty.
Our team takes pride in maintaining these values, and you'll see our commitment in every aspect of our work.
Here are some of the ways our values deliver better outcomes for clients:
Personal Commitment & Accountability
BWC Civil combines industry-leading knowledge and experience with the dedication of a locally owned and operated business. Our team takes personal responsibility for planning, executing and delivering results which meet and exceed expectations.
When you work with BWC Civil, you can be assured every member of our team is committed to this goal, including on-time and on-budget completion.
Effective Management of Time & Costs
At BWC Civil, our skills and experience extend beyond the physical works to maximise the value we offer our clients. We offer an extremely high standing of in-house project management and pricing capability, ensuring our tender and proposal documentation is both detailed and accurate.
This philosophy extends into our project management approach, which emphasises on-time delivery. We understand that the number one reason projects exceed their budget is ineffective process management, particularly where dependencies are involved.
BWC Civil understands that on-time completion is critical in managing costs – and we're committed to the success of the entire project, not just the scope of our works.
Quality & Attention to Detail
BWC Civil and Earthmoving stands for excellence across the full scope of our civil construction and earthmoving services. Our team has years of experience across a varied range of construction and infrastructure projects. Most critically, our culture and philosophy makes attention to detail a priority, ensuring the highest quality outcomes.
Workplace Health & Safety
The team at BWC continually aims for the highest standard of workplace health and safety practices. In our business, we foster 'no harm' principles and practise them daily on the worksite.
We train all our employees in various health and safety procedures and emphasise safety on every task without compromise. When you work with BWC, you can be confident that we take safety seriously for everyone on-site.