Have you ever wondered what's involved in turning a block of land into a viable construction site?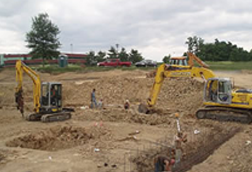 Before any road or civil construction project can commence, the site will need to be prepared with bulk earthworks. From start to finish, this process is quite comprehensive and will pave the way for construction work to take place. This can involve clearing new sub divisions, preparing building sites and industrial bulk earthworks.
So, what exactly does this vital step in the construction process entail?
Site Clearing
The first step in any construction project, both civil and residential, is site clearing. Essentially, this involves removing any trees and vegetation and removing any old, unwanted structures (for instance an old house). After this has been completed, any rubbish will be cleared from the site and the excavators will get to work.
Building Site Excavation
A site preparation crew, also known as the excavators, will excavate the site. They will operate any heavy equipment to assist with the above site clearing process and then they will look at levelling the ground or excavating it.
Depending on how the foundations of the project are being built, excavators may need to dig deep into the ground. For instance, when building an apartment block with an underground car park, significant works would need to take place, which would involve digging a hole to the required depth and then making sure the hole is structurally sound with retainer walls and foundation footings. This is of course, a simplified version of the work that is undertaken by the team at BWC Civil & Earthmoving, but a more detailed project plan can be provided on a case-by-case basis.
Industrial Bulk Earthworks
Once site clearing and excavation work is completed, we will then look at the bulk earthworks stage of the pre-construction stage. This includes the removal, moving or adding of large quantities of soil or rock from a particular area to another.
This can be achieved by excavating the area (as detailed above), or by constructing a new area by adding earth-based materials to a certain site.
When bulk earthworks are taking place, we aim to reuse as much of the excavated materials as possible, to prevent the costly collection of waste material and the delivery of extra earth materials.
How much earth we need to add or remove can be calculated with specialised computer software. Bulk earthworks are often completed to pave way for new roads, highways, railways and residential and commercial buildings, among others.
What Equipment is Required for Industrial Bulk Earthworks' Projects?
The exact equipment required to undergo this form of construction work can vary depending on the specific site conditions and what needs to be achieved. However, in general, BWC Civil and Earthmoving uses the following equipment to prepare a site for commercial or industrial construction projects:
Front end loaders
Excavators (five tonnes to 20 tonnes)
Semi-trucks and tippers
Positrak
Bobcats
Plate compactors and vertical rammers
It's imperative that trained professionals operate this equipment, both for the safety of everyone involved, and to ensure all work is completed to the best possible standards.
For all of your civil earthmoving projects in Perth, contact BWC Civil & Earthmoving today!